Blog

:

ExpressionEngine Has a New Owner… Again
By Angie Herrera // November 4, 2019
Almost a year ago, EllisLab, the makers and owners of ExpressionEngine, were acquired by Digital Locations. The official announcement of that acquisition can be read here. At the time, I didn't think much of it other than, "Huh, a company focused on artificial intelligence has bought a company focused on a content management system. Weird." After all, the announcement stated nothing would change. That, coupled with the fact that ExpressionEngine was no longer my "go-to" CMS, I kind of just shrugged and went about my day.
Then in early October, ExpressionEngine announced it was sold to a new owner. Essentially the ownership of ExpressionEngine has moved hands twice in just under a year. Normally that doesn't bode well in my eyes, but what do I know? 🤷 The new owner is Packet Tide, the parent company of EE Harbor, which is quite possibly the most successful EE add-on development agency. More on that in a bit.
So why the change? According to the announcement written by Rick Ellis, EE just no longer fit in the Digital Locations lineup. From my (very) outsider perspective, I'm not really sure how it ever did. But again, what do I know?
It's important to note that in October of 2018, ExpressionEngine became free and open source, just like WordPress. With the new ownership, so far, it looks like ExpressionEngine will remain open source. As noted by WP Tavern, "EE may have changed its licensing to be open source but it is not a community-led project where major decisions happen by a consensus of a diverse representation of community leadership."
This whole thing has been interesting, to say the least. Personally, I think this acquisition makes far more sense than the previous one. EE Harbor has been an incredible add-on developer over the past several years. Watching them buy out so many popular add-ons from developers who have moved on from ExpressionEngine has been fascinating (and a relief since they support their product so incredibly well). Because of all their work with add-ons, their knowledge of the EE platform and ecosystem is probably second to none. So, yeah, I think EE is in really good hands.
Does this mean I'll use EE as my go-to CMS? Probably not. EE has quite a bit of catching up to do when it comes to one major thing: author experience. The way content is managed in EE is… okay. But unless you're using Structure, it's rather unintuitive and requires more training than other CMS platforms with a better author experience. That said, I'd be lying if I said I wasn't at least curious about EE version 6 that Rick Ellis and Tom Jaeger (of Packet Tide) have hinted at. I mean, look at this: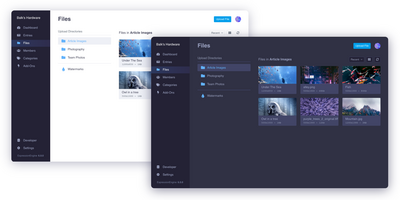 So for now, as far as Block 81 is concerned, nothing is changing. I still value ExpressionEngine and will still take care of my clients who are on that CMS. What happens after EE6 is released is a whole other blog post.
In the meantime, I'd like to congratulate EE Harbor for the acquisition! And if you, dear reader, have any questions, feel free to ping me on Twitter or head over to EE Harbor's FAQ.