Blog

:

Project Management Using Basecamp & Asana
By Angie Herrera // April 11, 2016
Finding the perfect tool to stay organized and productive is a futile task. It doesn't exist. Unless you build it yourself. Ain't nobody got time for that. So instead, you look for the tool that is going to work best for your workflow, whether that includes just you or you and one or more other people. Of course, that is far easier said than done.
Finding the as-close-to-perfect tool is really a cycle of research, trial, and error. At Block 81 we got a little too familiar with that cycle which can cause serious disruptions to focus and productivity. But we finally found a winning combination for us: Asana and Basecamp (v2).
Basecamp
We've been using Basecamp for what seems like ever. Seriously, I can't remember how long it's been. But it has really helped us and our clients stay focused during projects.
Admittedly, I have, more than once, flirted with the idea of ditching Basecamp for some other project management tool. Every time we tried though, we ended up sticking with Basecamp. Other tools had wonky UIs, or they had a ton of additional features we didn't need, or had some shortcoming that broke the deal.
For us, the beauty of Basecamp is its simplicity. We love it – and use it – because it's simple and straightforward. While there have been times that I've wished for a feature here or a feature there, I usually get over them because either I found a good workaround or it turned out that I didn't need the feature after all.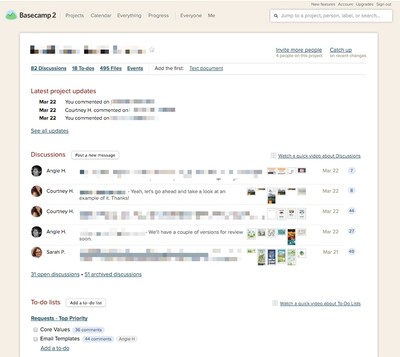 Although not every single client we have loves it, Basecamp has proven easy for them to use too. The central communication hub of it ensures that messages and files aren't lost in crazy email chains that eventually break down. This allows us – and our clients – to stay on top of things throughout a project.
Basecamp has worked very, very well for us when it comes to client communication. The breakdown for us was with internal communication and project management in Basecamp.
While private messages and private to-dos are great to have, they aren't enough. At least that's what we found for us. At the same time, getting an email each time a to-do was due was getting out of control. After all, the idea behind Basecamp is to reduce emails.
So we came up with workarounds as best we could, until we had had enough and needed to find a better tool for internal-only messages, milestones, and overall project management.
Asana
Enter Asana. I remember having given Asana a try a few years back and not really getting it and dismissing it as an overly complex, glorified to-do list. Perhaps it was its UI at the time or maybe I just didn't give it a fair shot. But in a desperate search to find a better project management app and after being enlightened in general PM practices, I gave it another look – a real hard look involving reading FAQs, checking out use cases, and watching videos. Once the lightbulb went on, we were off to the races.
As our projects have become larger and more complex, we've been forced (in a good way) to get more detailed with our tasks to make sure we're hitting scope accurately and on time. Our projects typically consist of various phases with multiple tasks. Even on-going support and maintenance projects have various tasks and phases, some of which repeat every month or quarter. Each high-level task almost always has a sub-task, not to mention deadlines and assigning tasks to people on the project. And to throw a bit of a kink in it all, not every project has the same workflow.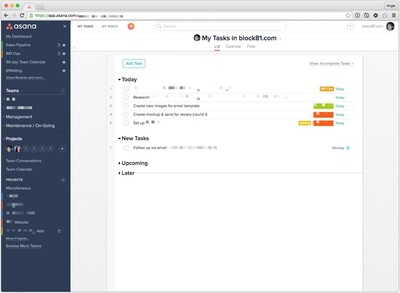 With that in mind, Asana fit the bill. One of the biggest appeals for us was the ability to set sub-tasks. This was, and still is, super critical. To give an example, a task like "code out page A" may need more specifics (such as entering content, testing a particular function, etc.), and it may need to be worked on by more than one person. Asana allows us to break things down as much as we need to and assign things the way we need to in order to do our jobs better.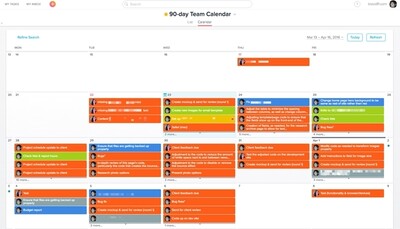 With Asana, we've been able to get much better at scheduling projects and their related tasks (with deadlines). Communication has improved, too as we're able to discuss individual tasks as needed. All of this has lead to us being more productive since we don't have to monitor a whole app or even an entire project for to-do updates. We quickly know what we need to work on and when because every person on our team has their own individual task list. Additionally, I'm able to quickly see where we are with any given project.
Beyond Client Projects
As I got more and more used to using Asana, I started to find other things and projects that I could track that weren't about our client work. Things like non-work projects, marketing efforts, sales pipeline, ideas, and more.
That's what makes Asana pretty great. Although it may seem daunting at first (in much the same way a blank canvas does), once you start using it, you realize how beautifully simple it is and you start to come up with more ways to stay organized and focused in this one app. I don't picture us ditching Asana for anything else any time soon.
What about you? What tool(s) do you use for project management? Tweet us!