Blog

:

Simplifying My Bullet Journal
By angie@block81.com // October 21, 2020
About a year ago I wrote a pretty lengthy article about how I use a Bullet Journal for my work as a designer and developer. As is my M.O., that habit eventually faded away and then morphed into something different.
Frustration and falling off the bandwagon
At some point between late 2019 and the first quarter or two of 2020, I ditched my Bullet Journal. I realized that in my regular rhythm and flow of work, writing down my tasks and doing all the migration and steps per the "standard" Bullet Journal method wasn't working for me, mainly due to efficiency*. I work in digital after all. I get emails that I need to reference; client questions and feedback via Basecamp; and other tidbits that live on my computer or the cloud somewhere. That gets really tough to write down all the time. Referencing these inherently digital things isn't impossible in a Bullet Journal, but it's far, far easier to do so digitally.
What really got me to realize that a notebook or paper task list wasn't going to work was during a road trip in October where working was part of the schedule. I have the luxury of working from anywhere, including from inside our truck. Balancing a notebook and a computer to figure out what needs to get done isn't easy in a moving vehicle (unless you're lucky enough to be in an RV or van with an actual table and a smooth enough ride).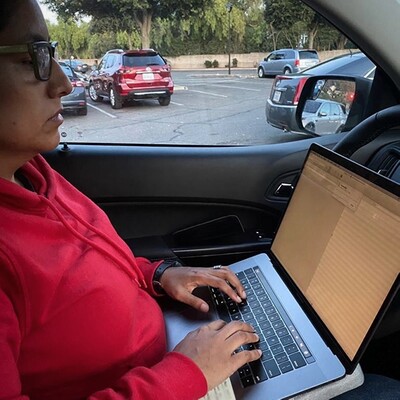 So the Bullet Journal had to go. <sad trombone>
I still love the Bullet Journal concept
The Bullet Journal concept is still something I greatly admire and like. It's right up my alley: simple and straightforward (never mind all the decorative and intricate Bullet Journal images when you Google for inspiration). So in the back of my mind I figured I'd return to the Bullet Journal in some form or fashion.
After some thinking, analyzing, and re-watching Bullet Journal videos on YouTube, I realized what I like best about it:
Jotting down and/or fleshing out ideas without putting much thought into structure or organization;
Having a place for meeting and project notes I could refer back to.
Plus, I love pen and paper. (Nerd alert.)
How I use my Bullet Journal these days
In the time since ditching my Bullet Journal, I've gone digital for about 80-90% of my productivity system. The core app for it is Things 3, which I'll write or make a video about eventually. But the remaining 10-20% is covered by my Bullet Journal. Here's my setup:
The notebook
I have a small stack of notebooks I'm slowly going through, but right now the Moleskine Cahier Journal in the 5" x 8.25" size (top-most notebook in the photo below) is what I'm using for my Bullet Journal.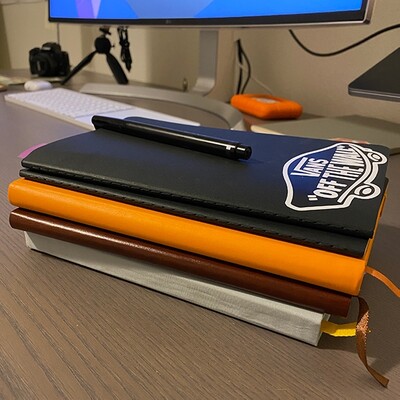 Once I'm done with it and go through the rest of my notebooks, I plan on switching to either a Moleskine Classic Notebook (same size), a Baron Fig Confidant, or something similar. That's the plan anyway. 🤷‍♀️
The Index
This is perhaps the one part of the Bullet Journal system that I didn't use before but do now. It's critical to how I currently use my Bullet Journal. I don't put everything in the index but it's important for me to quickly find important notes.
Inside...
Meeting notes
I'm on calls with clients on a relatively regular basis. Not taking notes is not an option and taking notes on my computer during a call has proven, for me at least, to be terrible. It's not just the typing sound that gets annoying (and somehow super loud?). It's because I'm actually more in-tune with the conversation if I'm not trying to type stuff (touch-typing or not)**.
Fleshing out high-level ideas
Throughout any given day I will inevitably come up with some idea for a part of my business or my productivity methods or what have you. Over the years I've realized that jotting these down wasn't always enough as I'd sometimes forget the few details or questions that would come up along with the general idea. Instead, taking 5-10 minutes to write all of that down in my Bullet Journal for later reference and reflection has been a boon to deciding whether an idea becomes a project or is not worth the effort or time. Now my only problem is leaving the idea aside; my excitement for an idea sometimes gets the better of me and all of a sudden an hour passed me by.
Project notes
As I work through design, development, and marketing projects, I often need to quickly write something down to keep in mind. Or sometimes I need to flesh out a particular piece of a project. For example, I was recently working on a website design that required a change in how filtering works. Instead of trying to do it in Figma, my go-to design tool, I opened up my notebook and sketched out what was in my head. This was faster and made it super easy to then get back into Figma with a more polished design component.
Wireframing
Wireframing is a big part of my design work and it ultimately ends up being digital for presenting to clients. But they rarely start that way. I used to pull out some other notebook or notepad to sketch out wireframes. That works well for sure, but sketching them in my Bullet Journal is just a tad faster since it sits on my desk all the time. More importantly though, sketching wireframes in my Bullet Journal keeps them in the larger record of my work life which I think will be neat to look back on months and years down the road.
Rough project scheduling
When I get a new project lined up, one of the biggest and most important pieces to starting the project up is putting the initial rough schedule together. Over the years I've tried a number of tools and methods for this, but it's become clear that pen and paper works best for me. So, you guessed it – I do that in my Bullet Journal now. Again, putting this in my bullet journal gives me a single place for reference.
Combining with digital
For most, if not all, of my client project notes, I like to keep them with the projects whether that's on my Mac or on Basecamp. It just makes sense for when I go back to look at a project for any number of reasons. So I'll usually scan my notes using TurboScan, an iOS app. I then email the scan to myself and put the notes with the project. No need for future me to hunt through my Bullet Journal(s).
Making it my own
I guess you could say that in some ways, my Bullet Journal isn't really a "true" or "pure" Bullet Journal. When you break it down, it's a notebook that I keep content in using some Bullet Journal concepts. So in that sense I'm not a Bullet Journal purist, so to speak. I'm okay with that, especially since that's one of the things Ryder Carroll, creator of the Bullet Journal, says: it's a flexible enough system that you can make it your own. That's what I've done and so far, it's working great.


 
——
*Yes, I realize that part of the method of Bullet Journaling is to slow down with things and be more mindful. While that makes plenty of sense, it just flat out took up too much time in my already packed day(s).
**Plenty of research has been done on why hand-writing notes is better than typing your notes. Have a gander here, here, and here.