Blog

:

The Apps I Use to Run My Business
By angie@block81.com // January 31, 2020
Once in a while a fellow freelancer will ask me what tools I use to manage projects, invoice clients, etc. So here's a little secret: I'm an app junkie. I love trying and testing new tools, sometimes to the detriment of my own productivity. I think it's more than just shiny object syndrome though. I mean, I've no doubt that plays a role, but I also think it's because I really don't like getting stuck in my ways. I don't want to be that person.
But no matter how many apps I try, I have a set suite of apps that basically help me run my business day in and day out. Despite my penchant for new apps and the fact that I have what seems like a zillion sitting in my Applications folder on my Mac, I do like to keep things simple as much as possible. That often means single apps dedicated to one or two things rather than one or two apps dedicated to almost everything. So this here post is my list of core apps that I use to keep Block 81 firing on all cylinders.
For you impatient types, here's the TL;DR list:
Communication tools
Spark email
It's nearly impossible to run a business without email. Sure, email has its pros and cons like anything, so that's why I think it's important to use what works best for you. For me, that's Spark. As much as I do like Apple Mail (despite shortcomings I'll write about later this year), Spark hits the key things I need: a unified inbox for multiple email accounts, snooze, and send later. I wrote a little bit about it here.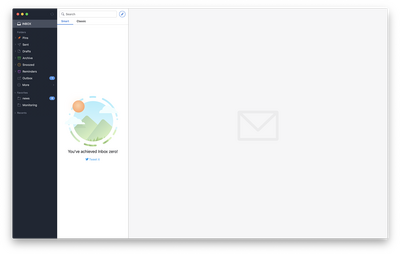 Calendly
Going back and forth via email to set up a call or meeting is so last decade. Seriously, it's annoying. While I've used a few scheduling tools over the past few years, I've been using Calendly for a while now.
Most of the scheduling tools available are similar in what they have to offer: a page or multiple pages for you to point people to so they can schedule something with you. Plus some added bells and whistles like syncing with your Google, Outlook or iCloud calendar, setting available times and the like. I've chosen Calendly for three main reasons:
Price. It's more affordable than some other options out there.
UI/design. Yes, this totally matters to me.
Simplicity. It's crazy simple and easy to use. I love to keep things simple.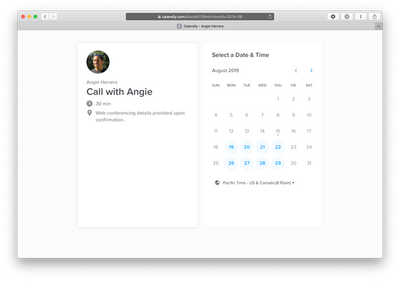 Zoom
Trying to schedule face-to-face meetings is difficult in our fast-paced world. Everyone is busy and no one really wants to deal with traffic. So, whenever I can, I use Zoom to speak with current clients and potential clients. With the option of video, it's a nice compromise between a phone call and in-person meetings.
Finance, invoicing, accounting
Harvest
I've been using Harvest since 2013. Prior to that, I was using Freshbooks which is a decent alternative, but I find Harvest is better suited for my needs. I turn to Harvest for all of my invoicing and time tracking. The killer feature that made me switch to Harvest seven years ago was its budgeting and reporting. For fixed fee projects, this was a game-changer for me. It makes it super easy to see how profitable (if at all) a project is. While some people may like much more detail than that, I like to, wait for it... keep it simple. The key to this though is their time tracking, which is great as well. If there's one thing I wish Harvest had, it'd be automatic late fee calculations. But it's a small trade-off I've lived with for nearly a decade.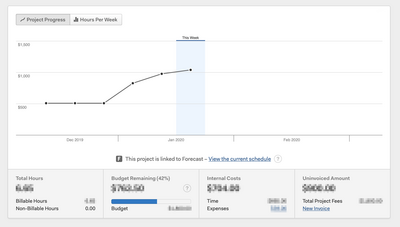 Apple Pages
I've tried several online proposal tools like Bidsketch and Better Proposals, and I was excited when the team over at Focus Lab finally released Quokka. But I had the same problem with every single one: they all charge a monthly fee. It's rare for me to send out a proposal every single month. Would that be awesome? Yes, of course! But the nature of my business involves a relatively long sales cycle and repeat business. Neither of those mean at least one proposal sent out every month. That means the monthly cost of something even as affordable as Qwilr would be a complete waste of money. So for a long time now I've been using Apple Pages to create my proposals. I have a template I created to match my brand that contains typical sections I include for web design projects but also gives me a ton of flexibility for modifying it for other services such as logo design or website audits. And when it comes to needing to sign the proposal? I head over to HelloSign and prepare the PDF I export from Pages for signing.
Bench
Seemingly a lifetime ago, I used to do my own bookkeeping. It. Was. Hell. But in 2016 I signed up with Bench for bookkeeping and haven't looked back. Just recently I was tempted to move away from Bench for reasons I won't get into here, but honestly, it's just more efficient for me to use whatever time I would've used for reconciliation in something like Xero to either be working on a project or working to get the next project. Bench is a bit on the spendy side though, so I'm regularly looking for other similar options, including a local bookkeeper. Even for the few faults Bench has set a pretty high bar for me in terms of keeping this stuff off my plate, particularly when it comes to getting stuff together for my CPA come tax season. 😬
YNAB
Budgeting is critical to any business wanting to stay healthy. YNAB is the tool I use for that. It's primarily touted as a personal budgeting tool, but it can also be used for business budgets. YNAB has been crucial to my business for a lot of years. I recently combined it with the Profit First method, and it's helped me stay on top of my business' financial health.
Productivity & PM
Things
I love the Bullet Journal. The concept. How it works. All of it. I used one for roughly 18 months prior to writing about it, give or take. But as much as I loved it, a digital workflow just works better for me. And so after many years of being away from it, I turned back to Things for my to-do app. I did look at Wunderlist, Todoist, and even TeuxDeux, but nothing beats Thing's minimalist UI and killer functionality (though TeuxDeux is a close contender in the minimalist UI department). In any case, Things is the one app I keep open all day as it has become the place I work out of.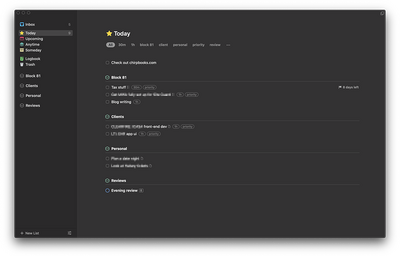 Basecamp
When it comes to managing client projects, I use Basecamp. I used it years ago, then stopped. Then tried what seems like a dozen other project management apps – some good (like Asana), some terrible (like Planscope) – and settled on just plain ol' email for a good while. But as my processes and other internal things changed, it was time to get back into a PM system. So after some digging and researching and reading and trialing, I landed back on Basecamp. Getting rid of the "Clientside" debacle feature sure helped convince me. It doesn't hurt that Basecamp makes me look like the most organized web designer ever. 😏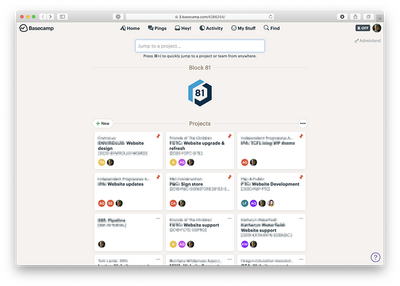 Notion
When Notion first hit my radar sometime last year, I was so confused by it, I immediately ditched it. But the damn thing kept popping up in conversations and on Twitter and so on and so forth. When I started to feel like Ulysses just wasn't cutting it anymore, I started to look at Notion in a bit more depth. As a result, I made the switch pretty recently.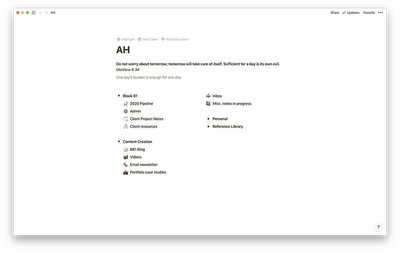 Don't get me wrong, Ulysses is a wonderful app I enjoyed for a long time. But I feel like I've outgrown it. If I were an author, I'd probably use it. I use Notion for much more than just my writing though. It's become my "digital brain", if you will. I keep notes, reference libraries for coding and design, ideas, and an inbox of sorts for anything I read, watch, or listen to that I want to parse a little more or save.
Forecast
One thing that is critical for my work is knowing how much room I have available for new projects. There are apps for this out there but they usually were aimed at teams (as usual) and came with a team price.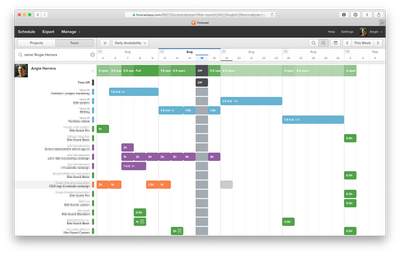 Harvest Forecast has been around for a long time. I'm not sure why I never hit the ground running with it initially. Or maybe I just don't remember. Either way, I started really using Forecast last April. A huge reason I chose it is because it ties directly with Harvest (duh) so I don't have to enter my project info in twice; I just import it into Forecast. From there I schedule away. It's made a serious positive impact on my business, and by extension, my life because it prevents me from overbooking myself which means I can actually have a life and get some sleep. 😄 (And yes, it's great for even just a one-person studio.)
Apple Calendar
Appointments, meetings, vacations, get-togethers with friends that took three weeks to plan... you name it. If it has a set date and time, it goes on my calendar. I've tried Fantastical more than once. It's pretty. It works. But I hate that it has this weird state of constantly being open while not really being open. So, Apple Calendar, while not as pretty, works great.
Document management and file sharing
Dropbox
Dropbox is... convenient, more than anything. I use it because it makes it super easy to share documents with client as well as request files. And, if I need to grab a file on the go, the iOS app makes that super easy. It's anything but perfect, but I've been happy with Dropbox for a long time.
Backblaze
Because of the way Dropbox works (i.e. files live both on my computer and my cloud), it basically acts as my first backup layer. But backups and file restoration is not Dropbox's primary job. That's where Backblaze comes in.
A tiny little app that just silently backs up all your files into the cloud for a few bucks a month. It doesn't seem like a big deal until all of a sudden that file you needed somehow got deleted. Or worse, your hard drive dies. That actually happened to me. Several years ago a hard drive containing critical client files died on me. It wouldn't spin up anymore no matter what I tried. So rather than panic, I headed to my Backblaze account. The download option would've taken far too long, so I had to opt for them sending me a USB hard drive. It arrived in a couple of days and I was back up and running with those files. Backblaze is worth every penny!
Google Drive
I'm not a huge Google Drive fan. Starting with Google's privacy blemishes all the way down to fussy UI and UX issues only a designer would obsess over, it's just not a suite of apps I like to use if I can help it. But nothing else really comes close when it comes to needing to share and collaborate on documents with others. I would love to use Dropbox Paper but it's just not there yet as far as pro apps go. Plus, sometimes spreadsheets are still necessary. So Google Drive it is. 🤷‍♀️
Holy app list, Batman
So if you haven't figured it out by this point, running a business – even a small one like Block 81 – takes a lot of apps. I always say that I try to keep things simple, and I do. As you can see, that doesn't necessarily translate into using as few apps as possible. What that does translate into is finding the right apps that will help keep running my business simple.
Do you use a ton of apps to run your small business? Have any must-have business-y apps? Hit me up on Twitter!