Blog

:

The New Face Of SEO In 2018
By angie@block81.com // May 2, 2018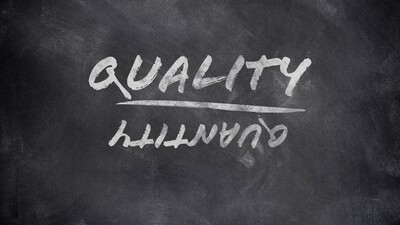 Trying to decipher the best way to optimize your site for search might sometimes feel like trying to solve a Rubik's Cube as a toddler.
However, SEO doesn't have to be nearly as complicated as it seems. All you have to do is focus on the right things and you'll start seeing more organic traffic coming your way.
The new face of SEO in 2018 has one clear focus – the user. Always putting the user first is your first step towards mastering SEO.
Quality Tops Quantity
You want as many pages indexed on your site as possible, but take a moment to carefully think about what type of content you're publishing. If you publish to your site's blog daily, but it's short content that is nothing more than marketing posts, you may be hurting your site's rank more than helping it.
While quantity is nice, quality always trumps quantity. Why? It's about your site's users. If they're not engaging with your content, you have higher bounce rates, fewer shares/recommendations from users and less overall traffic. Google takes notice and drops your rank. Focus more on creating one or two high quality posts a week for better results. Need guidance? Try a few tips from Google's own content creator guidelines.
Optimizing For Alexa
For a growing number of people, Google isn't king anymore. Instead, voice searches are becoming more popular through smart home devices, such as Amazon Echo and Google Home. Instead of Googling something, they just ask Alexa or Google Now. This means the face of SEO in 2018 includes optimizing for voice searches. While Google is still being searched, searches aren't happening by typing in keywords.
Two quick ways to optimize for voice is to focus on long-tail keywords and try to include answers to common questions on your website. As voice searching becomes more popular, this will become an integral part of SEO.
Faster Is Always Better
This one shouldn't come as a surprise. In fact, it's been a crucial part of SEO for years now. However, it's important to remember that page loading speeds still matter. No one wants to sit around and wait for 10-15 seconds while your site's home page or blog post loads.
Speeding up your site, especially on mobile devices, keeps visitors around longer. The longer they stay, the more likely they are to convert.
Using SERP Features
SERP features have been around since 2009, but the new face of SEO in 2018 puts even more focus on them. SERP features are considered as any non-organic search result on a Google Search Engine Results page. For instance, if you search for something and a box pops up with a potential answer above other search results, this is a featured snippet and a SERP feature.
Images, local area maps, recent news and reviews are all examples. When your site is able to appear above organic results, it boosts your brand's visibility. Optimize your site to ensure you appear in as many relevant SERP features as possible, such as including all local details on your site if you have a physical location.
User Experience Matters
User experience is quickly becoming an integral part of SEO. After all, if your site isn't user-friendly, why would anyone stick around? A bad experience ruins even the best products and content. Everything from intuitive navigation to layouts that are perfect on all devices are part of UX.
When you create a positive experience, visitors are more likely to come back. Think of it as a high effective way to stand out from the competition.
User Intent Over Keywords
Keywords have been a highly debated topic in the SEO world for several years now. Some say keywords are pointless, while others still push the importance of keyword research. It's not a black and white type of issue, though. Keywords are still important, but they're not used in the same way as they were in the early 2000s.
Google isn't looking for X number of keywords in a post. However, they're looking for the intent behind a keyword. Every person has a certain intent when searching for a keyword or phrase. Google has implemented machine learning as a way to better identify the intent behind searches. If your content focuses more on what a user would actually want, then your keyword most likely naturally matches the user intent and ranks higher.
It may sound complicated, but here's a simple way to remember it. Pick a few natural keywords (at most) and ensure your content solves a problem or engages a user in a way that fits that keyword.